Our Curriculum is preparing students for future:
Digital Generation Teaching and Learning Next Gen Teaching and Learning At Himalaya, we believe that every child is capable of reaching their full potential, and year upon year we produce students who do just that. To navigate our students through their learning journey, we have developed a set of common goals that are used throughout all areas of the academic and wider learning curriculum – uniting us in a shared belief of what young people can-and should-become. These all are our learner skills
Think Differently : Taking Risks, Imagination and Innovation, Solving Problems
Learn Together : Communication, Team Building, Leadership
Be Resilient : Managing Emotions, Determination, Healthy Life-Style.
Ask Questions : Questions and Conclusions, Organization, Evaluate and Improve
Get Involved : Community, Respect and Personal Values, Wider World The unique programmes like Spellathon, Public Speaking, and Reading Challenges boosts the confidence of students' right from early age.
Our teachers make use of flipped classrooms, project-based learning, brainstorming, role play, activity-based teaching, interactive lab experiments and self and peer evaluation, to make learning more engaging and effective.
Our Educational Programmes Help Students:
Become reactive learners and be able to identify their learning needs.
Be creative, innovative and fully equipped for future opportunities and challenges.
Be articulate, effective communicators, and express them appropriately.
Be engaged citizens, contribute to the community and address global challenges.
New Pedagogical & Curricular Structure Based on NEP2020
To sustain and enhance children's learning interest and motivation, our teachers:
Provide children with opportunities to explore freely, discover knowledge and validate their discovery
Care for the interests, development and needs of children, and take note of their differences
Encourage children to learn by using their senses and promote all-round development
Choose real-life themes and provide children with interesting learning experiences
Create a friendly, respectful, accepting, appreciative and harmonious learning atmosphere
Planning the content of activities
Co-coordinating the use of venue for arranging different types of activities so that children can play and explore, thus facilitating a balanced development.
Providing opportunities for children to explore independently and learn in groups.
Encouraging children to participate in sensory activities
Providing diversified play and learning activities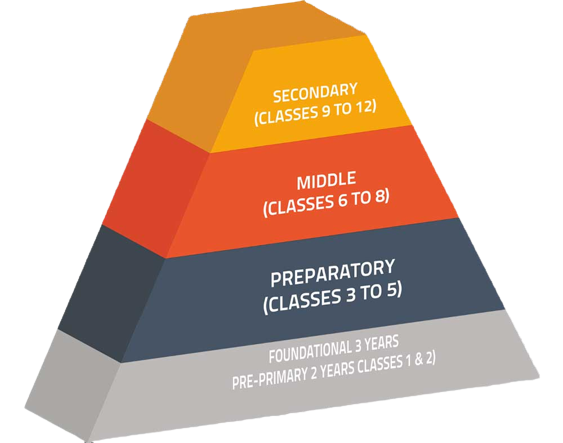 Our Foundation Classes (Nursery to Grade II)
Himalaya International School works on the concept "How children learn" and focus on Developmental and Educational Psychology. The Foundational and Preparatory School Programme encourages inquiry and exploration, and develops children's competence in various skills -reading, writing, listening, speaking, problem-solving, observation, measurement and use of information and communications technology.
Children are full of curiosity and active in learning
Children have different modes of learning
Children enjoy exploring with their senses to learn
Children acquire new knowledge building on their prior experiences and skills
Children love to learn in an accepting, encouraging and supportive environment
Fieldtrips, excursions, activities, projects and presentations provide experiential learning opportunities.
Dance, Fine Arts, Western and Indian Music, and other co-scholastic activities promote well-rounded development